Meet Our Team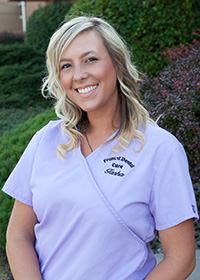 Tasha
Tasha has been a dental assistant since 2007. She previously worked for Dr. Nancy Houtchens, and we were lucky to make her a part of the Frantal Dental Care team when Dr. Nancy retired. She is a mother to two wonderful boys, Brody and Kelan. In her free time, Tasha enjoys playing horseshoes and activities with the boys.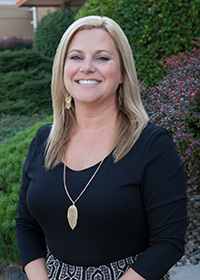 Amy
Amy graduated as a registered technologist in radiology and worked at St. Francis hospital for 7 years prior to joining Frantal Dental Care in 2011. Amy is our business assistant in charge of accounts payable. She works part-time so she can spend time with her two children. She enjoys listening to music, traveling, laughing at comedy clubs, playing tennis, and watching the Green Bay Packers.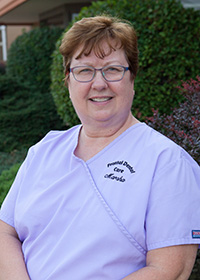 Marsha
Marsha has been a dental hygienist for over 38 years, working with Frantal Dental Care for over 15 years. She makes sure patients are comfortable and takes away any fears they may have while delivery quality care.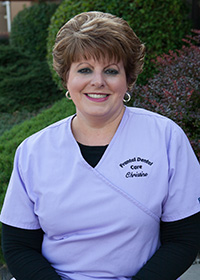 Christine
Christine joined Frantal Dental Care in January 2017 as a front office assistant. She is newly married and has 3 wonderful step-children (4 if you include their dog, Doc). Christine worked for Dr. Terry over 20 years ago and is glad to be back!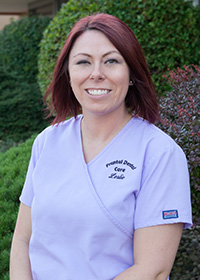 Leslie
Leslie joined Frantal Dental Care in 2005, starting as a dental assistant. Although she misses assisting chairside at times, she loves her position in our front office. Leslie will gladly help you schedule an appointment or answer any questions you may have regarding treatment or finances. She is a mother to three boys, Alex, Liam, and Cullen. In her spare time, Leslie enjoys cooking and going to Six Flags.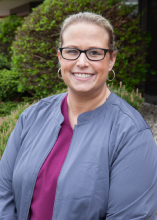 Jennifer
Jen has been a Dental Hygienist for 5 years. She prides herself in giving top notch Care to each and every patient. In her free time, Jen enjoys shopping and spending time with her friends and family. She also enjoys her two fur babies, Linus and Stutch.
Carla
Carla has been a dental assistant for over 18 years. Carla joined Frantal Dental Care in October 2020. She has been married for 17 years and is the proud mom of two. Carla enjoys concerts, traveling, and family time.